Enrichment Program
Students entering Brentwood Secondary College at Year 7 have the opportunity to apply for a place in the Curriculum Enrichment Program. The program is offered to Year 7 students who demonstrate academic skills above those of their peer group.
For more information regarding the enrichment program click here
Details regarding the 2018 Enrichment Program and how to register are available through the following link.
* Invitations are extended only to those students who have been offered a position in Year 7 for the following year and parents should not register their child until they have received an offer of placement from Brentwood Secondary College.
Chris Barry's classes take place in a cockpit. Not all the time, of course.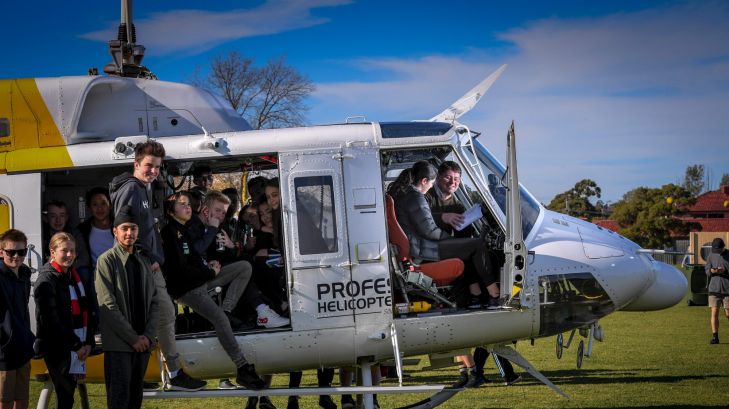 Four days a week, the pilot turned-teacher sticks to the four corners of his Brentwood Secondary College classroom. There, Mr Barry takes his year 10 students through his adaptation of the Civil Aviation Safety Authority's private pilot licence training course.
When Thursday swings around, the students aged 15 and 16 visit Tyabb Airport to fly. ''You see the smiles on their faces, the satisfaction,'' Mr Barry said. ''They think they can do anything after they have done that. I want to promote that positive attitude.''
After a successful six years of teaching the syllabus, the teacher and pilot of 25 years is now preparing to pitch the course as a VCE subject. ''That will mean that people can do their pilot licence GST-free and when they finish year 12 they will have done all of the theory necessary to obtain a commercial pilot licence,'' Mr Barry said. ''And it will go towards their ATAR score.''
In 2011, Mr Barry had a light bulb moment. He was searching for a more engaging way to teach his maths and science classes, when he spotted an aeroplane flying above. ''I thought, I have all this experience and knowledge; why am I not using it?'' he said.
Two years ago, the Glen Waverley state school won a Victorian Education Department grant of $100,000 to help fund a specialist aviation course. The school bought two $18,000 flight simulators, which are a key tool in the aviation science elective. It helps students shave off expensive flight time by practising on the simulators instead. ''It helps them learn how to take off, how to land, straighten and level, climbing turns or descending turns … any normal flight manoeuvres they would normally have to practise in an aeroplane,'' Mr Barry said.
But the highlight was always the real thing, he said. The students get into their flying gear, check the fourseat , single-engine Cessna 172 for structural faults, before jumping into the aircraft with an instructor and taking off. By the end of the six month course, they are on track to obtaining a private pilot licence. Over six years, 15 students have received private pilot licences; eight of them are now commercial pilots.
Mr Barry is trying to increase the number of females taking up the profession; only three female students have received licences and less than 10 per cent of Australian pilots are female. ''Girls are equally good as boys. In fact, I find them to be far more co-ordinated. They think first rather than act.''
The school fields about 10 calls a week from new students asking for a spot. The aviation course costs $2000, which is much cheaper than the $8000 it would cost to get a licence outside the school, and students can practise flying during school hours.
It is the kind of pipeline to industry that many schools competing for enrolments are now trying to create, according to Melbourne University's education policy expert, Glenn Savage.
This article is from the June 25 issue of The Age Digital Edition. To subscribe, visit https://theage.digitaleditions.com.au/
Copyright © 2017 The Age